Asian palmyra palm/Asian palm/Toddy palm tree(Tal/Taal gaas)
Asian palmyra palm/Asian palm/Toddy palm tree(Tal/Taal gaas)
Asian palmyra palm/Sugar palm tree(Tal/Taal gaas) in rural Bangla
Asian palmyra palm/Asian palm tree(Tal/Taal gaas) in rural Bangla
Asian palmyra palm/Sugar palm fruit(Tal/Taal) in clusters in the tree
Asian palmyra palm/Toddy palm fruit(Tal/Taal) in clusters in the tree
Asian palmyra palm/Sugar palm fruit(Tal/Taal) in clusters in the tree
Babui pakhi/weaver bird's nests hanging from the Asian palm (Tal/Taal) tree
Green Asian Palmyra Palm/Asian Palm Fruit (Kochi Tal/Taal fal)
Green Asian Palmyra Palm/Toddy Palm Fruit (Kochi Tal/Taal fal)
Green Asian Palmyra Palm/Sugar Palm Fruit (Kochi Tal/Taal fal)
Green Asian Palmyra Palm Fruit's seed sockets (Kochi Tal/Taal fal)
Green Asian Palmyra Palm Fruit's seed sockets (Kochi Tal/Taal fal)

Green Asian Palmyra Palm Fruit's jelly like seed sockets (Kochi Tal/Taal fal)
Climbing on palm(Tal/Taal) tree to collect juice
Collected palm juice(Tal/Taal ross) in earthen pots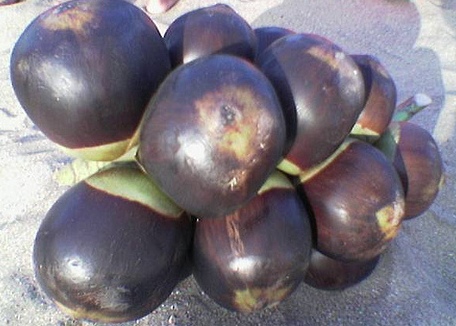 Asian palmyra palm or Asian palm is known as Tal/Taal in Bangladesh.Its scientific name is Borassus flabellifer.It belongs to Arecaceae family.It has some other english names.In english it is also known as Toddy palm, Sugar palm, Cambodian palm and Ice apple.
Asian palmyra palm(Tal/Taal) tree is a robust tree and can live 100 years or more and reach a hight of 30 m, with a canopy of leaves several dozen fronds spreading 3 m across.Young palmyra palms(Tal/Taal) grow slowly in the beginning but then grow faster with age.Palmyra palm(Tal/Taal) is a large palm tree, usually 10 to 25 meters high, but sometimes growing up to 30 m tall.It may take 20 years until the first harvest.There are separate male and female trees.Male and female inflorescences are tapped to produce a sweet sap.
Fruits grow in clusters. The fruits are round and have a dark-brown color on the bottom part and a green color on the top. The color changes to dark-yellow when it ripens. Fruits have a diameter of 13-20 cm.When the fruits are cut you find inside three jelly seed sockets with pale-white translucent flesh, similar to that of the lychee but with a milder flavor and no pit which can be eaten. The flesh has a sweet taste. The jelly part of the fruit is covered with a thin, yellowish-brown skin.Fruits are harvested by hands.Climb the tree and cut clusters of fruits with a hatchet or big knife.
Palm shoot is cut and the juice is traditionally collected in hanging earthen pot.The juice so collected before morning is refreshing and light drink called ''Taaler ross'' has extremely cool in sensation, and sugary sweet taste. The juice collected in evening or after fermentation becomes sour - is called ''Tari ''in Bangla.Tari is consumed mostly by villagers as raw alcoholic beverage. From the juice villagers of Bangladesh usually prepare sugar and ''gur''.
Asian palmyra palm/Asian palm(Tal/Taal) tree leaves are used for making mats, baskets, fans, hats etc.The black timber of the tree is hard, heavy, durable and is highly valued for construction of houses.
S: en.wikipedia.org; tititudorancea.com; eol.org;